1 Corinthians 15:33 
"Do not be misled: "Bad company corrupts good character."
This is a commonsense warning not an exclusionary statement. It deals with your "buddies" not people you spend time with occasionally.
It is a fact, that the people we spend the most time with, influence us. They can make us better or make us worse. They can challenge us or make us comfortable in our mediocrity.
As a coach I used to say, "show me your friends and I'll show you your future".
Since we coached the same way every year, the differences in record reflected the differences in the team members. Attitude is contagious. You cannot spend a season with a group of people and not have them impact you. You need to pick your people carefully. You should have a group you intentionally spend time with that pushes you to improve.
You need solid friends, committed to Christ to encourage you and hold you accountable. Friends who are pursuing morality and integrity as opposed to those who would make you comfortable in lowering the standards. When iron strikes iron it sharpens it. You need a, "life group" that makes you better.
This verse can be misapplied and appear snobbish. Make no mistake, you are not too good for anyone. 
You love everyone – You exclude no one – But you should have a squad that you intentionally and methodically invest time with that makes you stronger, braver, more disciplined, and more focused.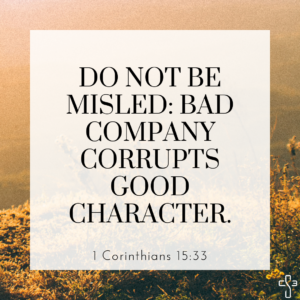 Look at the people you spend the most time with and you will see your future. If you don't like what you see redirect time toward a team you can train with. It's important and is something you should do strategically.
This will not happen by accident. You must seek out people running toward the same goals you are chasing regarding your family, your career, and your walk with Christ.
When you stumble they will pick you up, and when they stumble you can return the favor.
Make a commitment to have each other's back and to leave no one behind. Like a group of soldiers find some friends you can trust with your life. Because whether you realize it or not, that is exactly what you are doing.
"A true friend is the greatest of all blessings, and that which we take the least care of all to acquire." – Francois de La Rochefoucauld