"Is anyone among you sick? Then he must call for the elders of the church and they are to pray over him, anointing him with oil in the name of the Lord; and the prayer offered in faith will restore the one who is sick, and the Lord will raise him up, and if he has committed sins, they will be forgiven him. Therefore, confess your sins to one another, and pray for one another so that you may be healed. The effective prayer of a righteous man can accomplish much." James 5:14-16 NASB
At the age of 7, my parents divorced: I didn't know why, but I knew that I couldn't see my father as much anymore, and I had to move away to a downtrodden house on my grandmother's property. Looking back, my brain could only comprehend a fraction of what was happening, due to my naivety, but one thing I knew was clear: my mom wasn't acting right. At that time, my mother was taken control of, for some time, by 4 mental illnesses inside of her: manic depression, bipolar depression, schizophrenia, and multiple personality disorder. That's when things went further downhill.
At age 8, my mother took me out of all sports: I lost my friends, I lost my passion, and I lost an outlet for my endless energy. It was hard, and I didn't understand why it had to be me? Why did God let my mom attack my pastor, so he had to file a restraining order? Why did my mom attack my Dad? Why did I have to do the grocery shopping while my mom was too sick to do it? Why did my Mom try to kill me and my sister in our sleep, and why did God have me escape all of it just to talk to y'all today?
There are more questions I have asked, and many more that have been answered, especially the one about why I am here. I am here because I have been called to proclaim the gospel, as a believer in Jesus, and I couldn't be happier. My main focus today is faith and the power of just a small amount of prayer; in fact, it was just a small prayer that led to my life completely changing forever.
One day, when I was in third grade, I heard Matthew 10:33, which says,  "But whoever denies me before men, I also will deny before my Father who is in heaven." The message hit me hard, and I realized all that time that I had been denying Christ. I had continually denied Christ's ability to change my life, so I decided to start praying as he could change it. Soon after, I proclaimed my faith through baptism, and I trusted in Jesus; In God's eyes, he could not be in my presence before, but when I accepted him into my heart, he immediately jumped at the chance to enter into it and enter into my life.
Immediately, God's work could be seen: At age 10, after the 4 hardest years of my life, my father gained custody of me and my sister. At the age of 11, I entered counseling, to go through what I had endured. At the age of 11, I gained friends and started sports again.
My life was changed forever, by such a small prayer, from such a small boy, and yours can too. James 5:16 talks about how the prayer of a righteous man is "powerful and effective". A man's prayer is righteous only if he prays in faith; if he doubts, he will be "driven and tossed by the wind". (James 1:6) Don't let the devil tempt you to doubt God because of your fear, and if he does, root it out with scripture.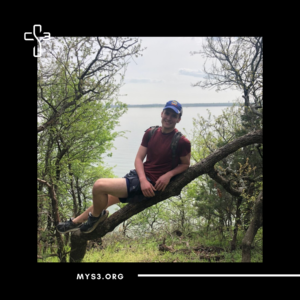 If you fear the world, then you have everything to fear. If you fear God, you have nothing to fear.
For the Spirit of God does not give us a spirit of fear, but of power and of love and of sound mind.  (2 Timothy 1:7)
A small faithful prayer can change anything, including your life, and my prayer is that you will be audacious and share that with others as well.
Blessings, Ethan – Colleyville Heritage High School S3 member