"Then I heard the voice of the Lord saying, 'Whom shall I send? And who will go for us?' And I said, 'Here am I; send me!'" Isaiah 6:8
My S3 Story started with me saying, "Yes" to God's calling in a surprising and unconventional way. I felt the Holy Spirit nudging me during the summer to serve the youth at our church. As I began praying for guidance, God led me through a series of unique circumstances.
First, I said, "Yes," to God calling me to clean the bathrooms at our church's summer youth conference. I was definitely confused why God would want me to serve on the custodial team, but I trusted God and signed up. At the conference, the speaker spoke on heavy topics that face our youth. As the young girls responded to the speaker, they became emotional and some sought refuge in the restroom. God had me in the girls' bathroom at just the right time and used me to minister to these young teens and offer them the hope of Jesus.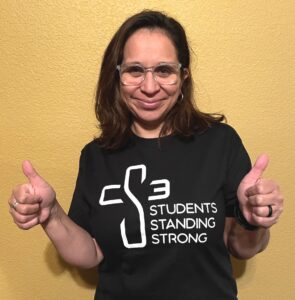 After the conference, I felt stirred by God to continue serving youth in my community. My children and I attended their school's "See you at the Pole" rally. The principal noticed me and called me after the meeting. He told me how he wanted the school to have a student-led Bible club and asked me to help support the students in starting an S3 club. 
I prayed with my family and agreed to help lead the club. We got started in the spring with my son as the main student leader.  Together our motto was, "Reach one, teach one." The club started small, but we were trusting God with growth. We believed even if only one student showed up, God would be glorified and the student ministered to. My "Yes" to God's calling is letting me join with God to impact the youth in my community and further God's Kingdom purposes. 
I hope God will use my story to reach you and teach you what can happen when we listen to God and answer His call.
-Jitendra