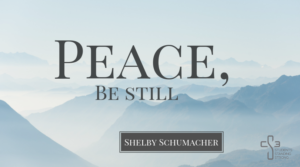 I sat down to take a break from studying for my six exams during finals week and preparing for a full summer, working hundreds of miles away from home, to write a peace.
Huh, ain't that something. I have learned that often what season you are walking in, and the areas the Lord is refining you is what you can speak and teach on most. While in such a busy time, what better way than to take a second to breathe and be still.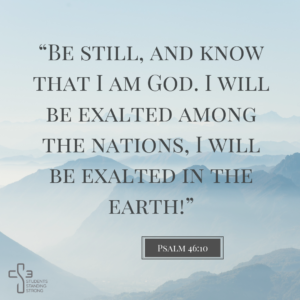 Psalm 46:10, the psalmist declares from the Lord, "Be still, and know that I am God. I will be exalted among the nations,I will be exalted in the earth!"
When he wrote that he was in a bit of a chaotic time. Verses like this, in my opinion, have a cost to them. There is a cost to being still, knowing, trusting and resting that many of us experience.
In John 14:27 Jesus says, "Peace I leave with you; my peace I give to you. Not as the world gives do I give to you. Let not your hearts be troubled, neither let them be afraid." God's heart is to fill you with peace. He longs for you to have all the fruit of the Spirit (Galatians 5) dwelling within you. He has consistent, constant peace available to you. But you must trust Him in every area of your life. You must hand over the reins of your relationships, job, identity, and plans to the superhero of your soul. You must trust that He will guide you perfectly into an abundant life.
I remember, at the beginning of the year, feeling the Lord pressing on my heart, you know, where all of a sudden you feel the Word as much as you hear it or sense it. This would be the year I would rest and truly trust. Every time that I would step out of that, I would feel the angst and the striving of trying to make something better, trying to solve something, trying to bring a solution to something. And there was a feeling so deep in resting and trusting that we only gain by being still. The only time we are told to strive towards something in the New Testament it's to actually strive to enter the rest of God (Hebrews 4:11).
I leave you with this: Look to your heavenly Father for peace. Find rest in His abundant love. Find your self-worth in the fact that God so desired relationship with you that He laid down His own life to have you. Your Father counts you worthy of the death of His only Son. Trust Him today. Place your entire life in His capable hands. Experience abundant life in the area of your emotions, rooting and grounding yourself in His unconditional, available love. May your life be marked by increasing peace as you grow in trust.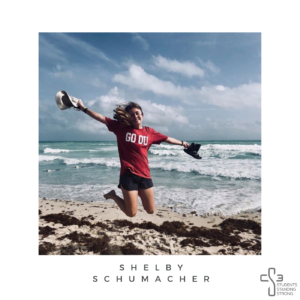 Shelby Schumacher
The University of Oklahoma '21 | Sports Management
Grapevine High School Students Standing Strong President 2016-17