A Look at Love
Hi! My name is Katherine, and I am a junior at Grapevine High School. I've been a part of S3 since 8th grade, and the organization means so much to me!
In the midst of troubling times or prosperous times, when we are surrounded by others, or when we are alone, people are always seeking to find love. It's natural to seek love and validation, anything that makes us feel happy to be alive, and feeling like we mean something. Unfortunately though, in today's modern society, oftentimes, "love" isn't all it's chalked up to be. Instead of finding value in ourselves, we settle for less than what we deserve from other people and complain that we can't find true love. We forget what love truly looks like.
1 Corinthians 13: 4-8 says, "Love is patient, love is kind. It does not envy, and it does not boast; it is not proud. It does not dishonor others, and it's not self-seeking, it is not easily angered, it keeps no record of wrongs."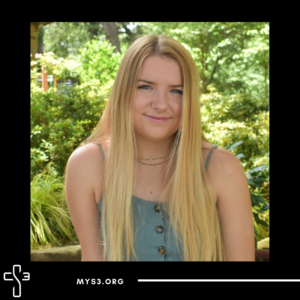 If we truly understand this definition of love, we can better accept ourselves, love others, and strengthen our relationship with God. Replace the word "love" with "God" in every instance in the scripture. It's still true. God is and does all of those things. He is the epitome of love, and we should find comfort in HIM. He is the one true example of perfect love, and before we can even hope to find love elsewhere, we must first find it in Him.
We should strive to model our relationships on Earth based on what love is. Both in loving ourselves and our neighbors we can all take a page out of the book of our Lord. Don't buy into the notion many seem to have today that love doesn't exist, or isn't worth it. Rather show the world what real love looks like, and allow yourself to feel it from the Lord. The love and relationships we find ourselves in on Earth cannot compare to the unconditional love God gives us, and in those times that we seek love we should turn to Him.
I have found myself seeking Earthly love, and in turn ignored or weakened my relationship with God. I challenge myself, and those reading this, to accept the amazing love we receive from God, and use it to model our life around.
-Katherine, Grapevine High School S3 Student